Archives: Travel
Updated: Thursday, May 20, 2004 1:38 PM EDT

The Foxhollow Wetlands Spa, opened in 1995, offers guests traditional spa treatments along with alternative therapies.
Photo courtesy FOXHOLLOW
Southbound to Serenity
By Vicki Prichard
ChallengerNKY.com

CRESTWOOD Winding your way up the tree-lined drive of Foxhollow Manor House Inn, you're likely to feel that you are truly at the core of what Kentucky is all about.

Lean thoroughbreds graze inside the white fence that defines the stately manor and 1,300 acres of the only destination spa in Kentucky. The operative word here is serenity.

A destination spa refers to a full spa experience with services catering to mind, body, fitness, healthy eating, relaxation and treatments. At Foxhollow, a visitor's need for refreshment, rejuvenation, holistic healing and a healthy dose of self-indulgence are all fulfilled.
Located just one hour south of Northern Kentucky on I-71 in Crestwood, Foxhollow is made up of three distinct treatment centers.

The 150-year-old Foxhollow Manor House, which accommodates overnight guests, also affords diners freshly prepared, organic meals. The culinary offerings appeal to many of Louisville's business sector, who frequent the Manor House for lunches, or schedule small conferences at the facility. For those seeking a more intimate setting, there are five cottages adjacent to the main house. In all, the facility can house between 25 and 30 overnight guests in a total of 19 rooms.

If You Can't Find the Cure, At Least Treat the Symptoms

The Foxhollow Paracelsus Clinic is a state-licensed medical facility where visitors can obtain an individualized health assessment from the staff of physicians or osteopaths. Kimberly May, administrator of the clinic, says the discipline at the clinic is to practice integrative and biological medicine by incorporating treatments that address mind, body and spirit.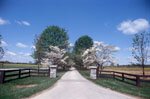 The tree-lined entrance to Foxhollow Spa in the spring.
Photo courtesy Foxhollow
"For instance, let's say you have acid reflux," May says. "We would find out what's at the root of the acid."

May says the clinic, which is affiliated with the Paracelsus Klinic in Lustmuhle, Switzerland, treats visitors from all over the world.

"We deal with cancer, and we've been successful treating Lyme disease, so we have people who come out from the east coast," May says.
Spa treatments at Foxhollow Wetlands Spa offer multi-sensory pampering. Imagine a therapeutic facial, reflexology, or reiki taking place in rooms painted in soothing hues, enhanced by subtle, ambient light, and surrounded with soothing music.

Of course, the old spa staples are still in demand.

"Massage is still the most popular," says Angi Krasse, associate administrative manager of the Wetlands Spa. She says a one-hour Swedish massage is still in demand, as well as stone massage, which involves applying heated stones on the body to help relax tense muscles more quickly and allows for a deeper massage without pain.

Here's to Self-Indulgence

Spas have gone mainstream. The International Spa Association currently has 1,900 members, representing 53 countries. In 2000, spas totaled an average of 37,000 visitors. According to results from the ISPA's 2001 survey, 49 percent of the spas averaged between $1 and $5 million. Demographics show that 60 percent of the people visiting spas are between the ages of 31 and 54, while men make up 28 percent.

Whereas five years ago many of us wouldn't have afforded ourselves the luxury of spa treatment, nearly 10,000 people gave themselves permission to be pampered last year the ISPA reports. Stress levels are high, people are busier than ever and are working harder to acquire things that cost more. People may not be able to find what's at the source of their particular anxiety, but seeking out something that soothes via a more integrative approach can work, according to ISPA findings.

For over-worked, out of balance lives, visitors to Foxhollow can enjoy services based on Ayurveda, the ancient Indian principles that strive to achieve mental and physical balance.

Seeking Alternative

The genesis of Foxhollow came about in 1995 when Mary Norton Shands, former owner of Louisville's WAVE-TV, opened her home as a bed-and-breakfast. Plagued by a nagging knee problem, Shands turned to alternative branches of medicine that focused on the patient's general sense of well-being. She decided to also offer yoga classes and other holistic health services at her new venture.

Aside from the Louisville locations, she also established a spa in Exuma in the Caribbean.

At the Wetlands Wellness Spa at Foxhollow, stressed-out visitors can indulge in a massage, reflexology or acupressure for $50 to $75. Those seeking beauty treatments can choose from numerous options including facial, also from $50 to $75 or an exotic sea botanical body wrap for $55.

For information on spa packages, overnight accommodations and other services at Fox Hollow call 502-241-8621.

Posted 5-20-2004




---