Archives: Freetime
Updated: Monday, May 3, 2004 7:30 AM EDT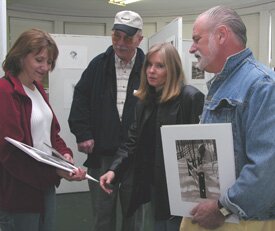 Students Helen Barnes, Connie Austin and Doug Rowe chat about photography with instructor Albert Truitt (second from left) at the spring adult art exhibition May 2 at Baker-Hunt Foundation.
LORI COSSENS / ChallengerNKY.com photo
Foundation Provides Access to Arts, Connection to Community
By Lori Cossens
ChallengerNKY.com

COVINGTON — For some Baker-Hunt students, it's all about having fun with art. For others, it's a way to make friends or share new ideas. Either way, those involved with the organization say it has stayed true to the hopes of its founders.

The Baker-Hunt Foundation, a non-profit organization housed in a historic residence in Covington, began as a combination of dedication to the arts and good, old-fashioned hospitality. What started over 100 years ago with a simple act of neighborliness has developed into an intrinsic part of Northern Kentucky's rich cultural tradition.

"This is a great foundation," says Margaret Jacobs, a member of the Friends of Baker-Hunt board, a group dedicated to keeping the organization funded and looking out for its upkeep. "It's the best-kept secret in Covington for years and years."
Bernice Tuemler, a retiree from the Maisonette restaurant, says she is an example of a student who was affected by the atmosphere of the foundation. Tuemler has taken three years of painting classes at Baker-Hunt and recently finished her second year of quilting. She says the skills she acquired, and the chance to share her experience with others, gave her a feeling of belonging.

"You get to feel close to them," she says, "even after the classes are over."

After her first year of painting, she says she was hooked on the Baker-Hunt Foundation.

"I guess it was the things I learned," she says, "and the friendliness. You just feel at home there. It's a wonderful place to go, and everyone is striving for the same thing."
Jacobs got involved about five years ago when she took a drawing class at the foundation. After retiring from AT&T, she had time on her hands, but found more at Baker-Hunt than just a way to keep busy. She found friendship, a sense of connectedness, and potential to give back to the foundation, as well. She says the house and grounds had been kept up by the foundation's trustees, but she saw a chance to contribute some tender loving care. It was a sentiment shared by other former students, many of whom are now also members of the Friends of Baker-Hunt.

"Most of us have been touched in some way by the foundation," Jacobs says.

Just Being Neighborly
And touching lives was exactly what Margaretta Baker-Hunt and her niece Kate Scudder had in mind when they began to reach out to their neighbors with the idea of sharing their love of the arts, and of higher learning and religious and spiritual teaching.

In the mid-1890s, Mrs. Baker-Hunt, a widow, become increasingly devoted to the idea to use her spacious home as a meeting place for cultural and religious groups. As time passed, she and Scudder became more spirited in their undertaking, and began to dedicate additional time and money to assuring that societies and associations like the Covington Art Club, the Six Twenty Cultural Club (named for the street address of the Baker-Hunt home), and the Covington Wildflower Preservation Association could continue to have a gathering place.

"The idea came from the founders," says Cole Carothers, program director of the Baker-Hunt Foundation. "They were very forward-thinking and culturally connected. So our programs are very accessible, and not in any way exclusive."

In a 12-month period, the foundation serves over 1,000 students, Carothers says, and classes include everything from traditional visual arts, such as painting, drawing and photography to more unusual crafts like quilting and felting (making crafts and apparel with felt). There is even a ballroom dancing class for those more nimble with their feet than their hands.

But the goal is not just to offer variety, but to offer it to as many people as possible. Carothers says the foundation charges only what is absolutely necessary to pay its teachers, and also offers scholarships for some senior citizens and children who can't afford classes.

The foundation, Carothers says, has tried to remain loyal to Mrs. Baker-Hunt and her niece, who had a specific idea in mind when they began the project.

"Their mission seemed to be to provide professional instruction in a compelling learning environment," Carothers says, and the women were successful to a great degree.

"They were pretty active in their day," he says, offering people an artistic outlet as well as "a certain amount of social interaction."

Bringing Art to All

What seemed like a simple desire to be generous — to open their home to the women and children who lived and worked around them — has turned into a legacy that has lasted more than a century. The foundation has now reached thousands of individuals in Northern Kentucky who may have otherwise never experienced the arts or the bonding that takes place by sharing the creative process.

And students aren't the only ones who are touched. Michael Wilson, a professional photographer who has created album cover art for superstars like B.B. King, Waylon Jennings and The Neville Brothers, finds the art scene in Northern Kentucky to be underrated. Despite his busy schedule, Wilson, a graduate of Northern Kentucky University, continues to teach a 20-week photography class at Baker-Hunt.

Because there is no experience required to take part in Wilson's class, he invariably ends up with students at opposite ends of the spectrum. And he says that's part of the joy.

"Everyone's at different places," he says. "Some people just want to take pictures of their grandkids and others get much more involved in the technical part. We work according to everyone's interest. Then, beyond that, we just find things to talk about."

Sharing his craft with students, he says, is different from the creative process itself, no matter how fulfilling.

"For me, it connects people," he says. "Not just in terms of people meeting in art class, but it's actually like knocking on a wall to see if anybody's in there."

Or opening up one's home, as Mrs. Baker-Hunt did all those years ago, to see if anyone was out there and if anyone wanted come inside. They were, they did, and they still do.

The Baker-Hunt Foundation is located at 620 Greenup Street. For more information, visit their Web site at www.bakerhunt.com.




---