Archives: Community Vision
Updated: Saturday, May 1, 2004 6:08 PM EDT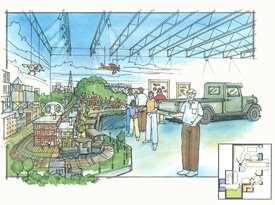 Murphy-Catton's artist's rendering of the Faragher Train Exhibit. Ray Faragher of Kenton Hills donated his extensive garden railway system to the museum before he died. The exhibit features scenes of Northern Kentucky and Cincinnati from the 1920s and 1930s.
Looking Ahead to a Bright Future
By Vicki Prichard
ChallengerNKY.com

COVINGTON — Tracing the steps of the wooly mammoth, pioneer trails, and the winding tracks and roadways of Northern Kentucky, the Behringer-Crawford Museum in Devou Park has long been the sole keeper of the natural, cultural and artistic heritage of the region. And to think, it's only getting started.

"Northern Kentucky will finally have a significant home for our history," says Linda Robinson, director of development at Behringer-Crawford Museum.

Robinson is referring to the construction currently underway on a 15,000-square-foot expansion at the museum. Designed to be built in phases as funding develops, the expanded facility is scheduled to open in 2005.
"The underlying theme of the new museum is tracing the settlement and development of Northern Kentucky through the evolution of transportation," Robinson says.

Murphy-Catton, Inc., of Walton, a company nationally recognized for creating interactive museum displays, designed the master plan for the new building. Throughout the three levels of exhibit space will be displays such as the Faragher Train Exhibit, a gift shop, a multi-purpose room, as well as additional exhibit space. The Eva G. Farris Transportation Room will include a Trolley Viewing Platform featuring an original streetcar from the Green Line.

"The streetcar is the only one of its kind in the U.S. that is in working condition, according to the Smithsonian," says Robinson. The Transit Authority of Northern Kentucky completely refurbished the streetcar, which just happens to be named "Kentucky."

The Faragher Train Exhibit comes by way of Kenton Hills residents Ray and Ruth Faragher.
Robinson says funding for the addition is moving right along.

"We've raised $1.8 million toward the $3-million construction goal," she says. "The City of Covington has helped tremendously with the infrastructure."

History of the History

Sue Puffenberger and her mother, Mrs. Lowell Puffenberger, peruse the Sandy Cohen Special Exhibits Gallery at the Behringer-Crawford Museum.
VICKI PRICHARD / ChallengerNKY.com photo
Since 1979 the Behringer-Crawford Museum has functioned independently of the City of Covington and is governed by a board of trustees.

"We have a great board," Robinson says. "Not only are they 100 percent financially committed, but as volunteers they're committed. They paint walls, do yard work."

An anonymous donor has committed to match $500,000 in donations. Robinson says an additional $1 million is needed for the fabrication and installation of the exhibits.

"So many different facets are happening at the same time," says Museum Director Laurie Risch, who adds that input from the museum staff has been essential.

In addition to the museum exhibit space, a new patio, and expansion of an existing patio, the museum will also add outdoor-accessible restrooms in hopes of encouraging foot traffic in Devou Park.

"These will be the first restrooms in the park," Robinson says.

The museum opened its doors in 1950 as the William Behringer Memorial Museum. Behringer was a local builder by trade and big game hunter, amateur archeologist, and taxidermist by passion. His extensive collection of paleontological specimens and Native American artifacts gave the museum its first exhibits under curator Ellis Crawford.

Crawford, an archeologist, pioneered important regional prehistoric digs, most notably Big Bone Lick in Boone County. He is credited with giving the museum its focus on preserving and interpreting the history of Northern Kentucky and the Ohio Valley region.

With a wealth of educational resources, the museum took the initiative to launch a variety of educational opportunities not only for area schools, but for families and senior citizens as well. Summer camps, like the Junior Curator Program in Archaeology and the Showboat Follies Theater Workshop, are area favorites. Suitcased exhibits containing portable artifacts make their way to schools, senior citizen homes, businesses, and service clubs.

Behringer-Crawford is the largest public holder of Kentucky artist Harlan Hubbard's work, while the Sandy Cohen Gallery features special exhibits that showcase the talents of Kentucky artists. The museum also houses permanent collections of Native American Indian Prehistory, Paleontology, Archaeology, the Civil War, 19th Century Homelife, Wildlife, Folk and Fine Art, and Ohio River Heritage.

"It's so kid-friendly," Robinson says about the exhibits. "In every room there's something for kids to do."

Facts and Figures

The Behringer-Crawford Museum is located at 1600 Montague Road in Covington.

Directions: From I-75/71, take #191 (Pike Street/12th St.); to Pike Street; look for Devou Park signs and turn right onto Lewis Street. At third stop sign, bear right on Montague Road up to hill into park; at top of hill, turn right and follow to 4-way stop. Proceed straight and turn left into museum free parking lot. For handicap parking/access, turn left at 4-way stop to museum driveway.

Visiting Hours

Tuesday-Friday 10 a.m. to 5 p.m.

Saturday-Sunday 1 p.m. to 5 p.m.

Closed Mondays and all National holidays.

Admission/Donations

$3.00 Adults

$2.00 Seniors (56+) & Children (3-18)

Free to Museum




---