Archives: Business
Updated: Wednesday, June 2, 2004 1:02 PM EDT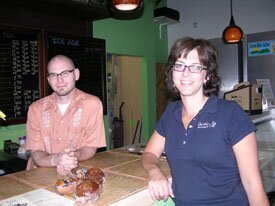 Josh Baker, owner of Mammoth Coffee and Heather Buckley, owner of Soho, are putting the pulse back in Monmouth Street with their creative business investments.
Photo by VICKI PRICHARD/ChallengnerNKY.com
The Future is Now for NKY Professionals
By Vicki Prichard
ChallengerNKY.com

COVINGTON It's not so much about imbibing as it is about making a difference, and the real connections seem to be made at project meetings as opposed to bars.

There's an entirely different spin on young professionals socializing in the new millennium and it appears that when they come together it's to the benefit of entire communities.

In a story by Robert Florida for Washington Monthly associated with ideas put forth in his book, "The Creative Class: And How It's Transforming Work, Leisure, Community and Everyday Life," the author describes the particular demographics this way:
"The distinguishing characteristic of the creative class is that its members engage in work whose function is to 'create meaningful new forms.'"

And just who are these people? Florida says they are comprised of some 38.3 million Americans who have a substantial economic power. As of 1999, the average salary of a member of the creative class was nearly $50,000. Within the class Florida draws two distinctions the supercreative core, consisting of scientists, engineers, tech people, artists, entertainers and musicians, and creative professionals managers, lawyers, and financial, healthcare, and technical workers.

In Northern Kentucky, they're people like Traci Griffin.

The Legacy They Will Leave
Griffin, of Griffin Industries, is president of Legacy, a Northern Kentucky organization designed to bring young professionals together for public service. In its fifth year, Legacy emerged as the result of a young professionals forum sponsored in 1999 by Forward Quest, a local economic development group.

"We want people to get engaged in social organization," Griffin says. "The unique thing about Legacy is that you spend time getting things done rather than on raising money," Griffin says.

Last fall, Legacy hosted the gubernatorial debates between Gov. Ernie Fletcher and Ben Chandler at Northern Kentucky University, and drew a crowd of 1200. The mural along the Ohio River in Covington is another Legacy project.
"A lot of our members have young families or are new to the area, or are at a point in their career where they are working lots of hours," says Griffin. "We find that more than just the social events, but the committee work through projects is where many friendships develop."

"We see leadership developing through these efforts," says Mike Hammons, president of Forward Quest. "Northern Kentucky will be so much better off if we cultivate leadership early."

On what is quickly becoming one of the trendier streets in Newport, Josh Baker's Mammoth Coffee is just one example of the how young professionals can trigger change.

Baker, 29, and a Cold Spring native, was in advertising for six years when his wife, Katie, encouraged him to buy his own coffee shop. What he's found is an entire sense of community is unfolding as an increasing number of young creative entrepreneurs set up shop in Newport.

"My wife and I have worked together with the City of Newport and they've really worked with us," Baker says. He and his wife, a graphic designer, have put together a Downtown Newport brochure to help promote Newport businesses.

Heather Buckley, the 30-year-old owner of Soho on Monmouth Street in Newport, which sells scooters, is taking her second stab at her own business. Her niche in Covington's Main Strasse was Enzo's Coffee Shop and Drycleaners.

"It's great to come here and talk shop," Buckley says, while placing an order at Baker's Mammoth Coffee.

Figures provided by the Northern Kentucky Chamber of Commerce show that as of 1999, a population breakdown by age group showed there were 43.5 percent people between the age of 25-35 in Boone, Campbell and Kenton Counties.

The New American Dream

According to Florida, the ascent of the creative class is the result of a society whose priorities have shifted since the post WWII concept of the American Dream. He maintains that the culture that defined quality of life in terms of car, mortgage and job eventually became disillusioned, yet obligations, especially children, kept them where they were.

As fate would have it, the children of the original American Dreamers sought to reinvent the world they were born into. While began to think, would not be defined by that fact alone.

"When you get out of college it's more than just going to your job," says Angie Cain, who at the age of 29 is district director for Congressman Ken Lucas. "You're networking for your career and giving back to your community."

A former president of Legacy, Cain says organizations like Legacy are essential in keeping young professionals in the area.

"Legacy provides the opportunity to socialize and learn from each other. It's made up of some of the best and brightest of Northern Kentucky. It helps keep them [young professionals] here," says Cain.

Keep Them Busy & Happy, Maybe You Can Keep Them Here

Pam Allen, vice president of special events with the Northern Kentucky Chamber of Commerce sets up annual events, such as Business After Hours, to give young professionals an opportunity to network and socialize.

"They're the up and coming leaders," Allen says. "We try to offer a variety of events."

The current 85 members of the Northern Kentucky Bar Association Young Lawyers are all under 35, or have practiced less than ten years. For Shane Sidebottom, and attorney with Wolnitzek & Rowekamp, PSC, the organization provides an essential support.

"Practicing law can be a very stressful career choice. It is nice to have an organization in your profession that allows you the opportunity to regularly meet fellow peers in a social setting," says Sidebottom. "It is a nice support outlet and a great way to know a person, instead of just knowing them as a 'lawyer'. I have made a lot of friends through the Young Lawyers Section that, under normal circumstances, I may not have even met."


Posted 6-1-2004




---