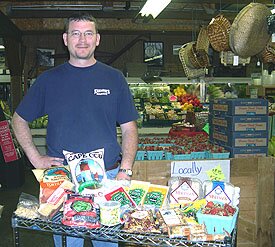 Kremer's Market manager Tom Heist displays a cornucopia of healthful snack foods, including locally grown strawberries, low-fat chips and crackers, and lots of fruit and nut products.
Photo by PAMA MITCHELL/ChallengerNKY.com
Eating Healthy: How Snacking Can Be Good for You
By Pama Mitchell
ChallengerNKY.com

CRESCENT SPRINGS Sitting and snacking the bane of all office workers. Not only do we park at our desks for hours on end, tethered to our PCs and telephones, but we also find ourselves within arm's length of all sorts of snack foods. Whether it's something squirreled away in a drawer or a dish of goodies that beckons from a coworker's desk, we face constant temptation to eat, eat and eat some more.

Even if you don't work in an office, you probably spend at least some of your leisure time planted in your living room, remote in hand, taking in a lot of food commercials and wondering what would taste good right now.

How snack savvy are you? Take this quiz to find out.

And yet many nutritionists say that snacking actually can be good for you. If a body goes too long without nourishment, it can lead to pigging out when you finally do get a chance to eat. So it's really better to eat something every couple of hours than to go more than three hours without food. The American Heart Association suggests that eating five to six meals a day, rather than two or three, can lower blood cholesterol, help with weight control and keep blood-sugar levels more even.

The challenge is to snack smart by finding healthful snack foods that you like and keeping them handy.

Finding the Goods

Kremer's Market, a mecca for the NKY healthy eater, offers a wide variety of good-for-you snack foods. Kremer's farm has been selling its produce since 1913, and beginning in 1975 they opened the store in their present Crescent Springs location on busy Buttermilk Pike. Although the Heist family, which now owns and operates the market, doesn't farm the land they live on any more, their store sells locally grown produce throughout the growing season, and lots of other goodies all year round.

Tom Heist, who's managing the market, gathered healthy snack foods during a recent walk through the store, plucking items off shelves and from coolers to assemble a table full of yummy, guilt-free munchies. He stayed away from the obviously healthy fruits-and-veggies snackables except for the irresistible locally grown strawberries. Almost everything Tom selected from trans-fat free chips, cookies and crackers to granola bars, nuts and dried fruit products would make ideal candidates for your desk, glove compartment, or TV room. Tom's personal favorites, he says, are the Almondina crunchy biscuits and the Sensible Foods brand "Cracklin' Fruit" chews, which come in several flavors.