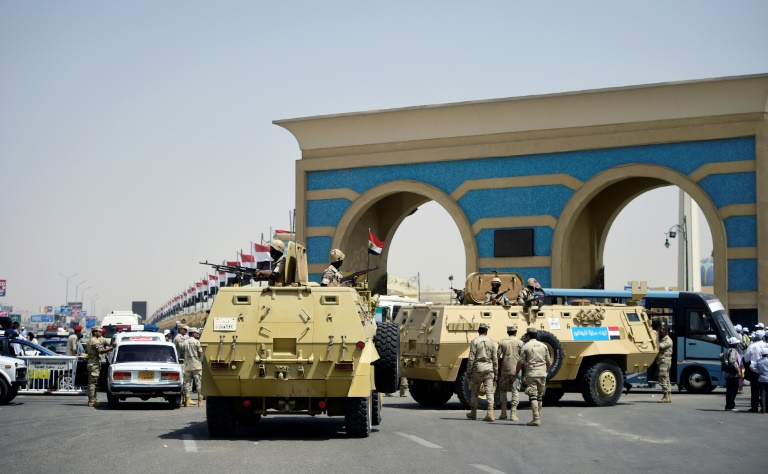 Egypt has been fighting against a wave of terror activities that killed hundreds of policemen and soldiers since the military toppled former Islamist president Mohamed Morsi in July 2013 in response to mass protests against his one-year rule and his now outlawed Muslim Brotherhood group.
Egyptian officials say suspected militants have ambushed a police convoy in the Sinai Peninsula, killing two policemen and wounding two others, including a police brigadier-general.
At least 10 suspected militants were killed in the raids.
They then opened fire with machine guns at survivors of the blast.
It was the deadliest attack in the northern Sinai in months.
At least 18 policemen were killed in a militant ambush in Egypt's Sinai.
Pliskova leaves behind No.1 tennis ranking
Next up for the 20th-seeded Vandeweghe is a showdown with either fellow American Madison Keys or Kaia Kanepi of Estonia. But the 20th seed hit through her again to break and reach just her second major semi-final.
Four armoured vehicles were destroyed due to roadside bombs and a fifth one carrying signal jamming equipment.
IS claimed it was behind the attack via its news agency Amaq. The officials spoke on condition of anonymity because they were not authorised to brief media.
In March, the military said militants killed 10 soldiers during an army raid in Sinai's central region.
They said initial enquiries indicate the militants were planning to attack state institutions, the police, the military and the judiciary, and to blow up key installations.
Private newspaper al-Masry al-Youm, citing security sources, reported that the slain extremists were from the self-styled Hasm group, which authorities accuse of being the armed wing of the now-outlawed Muslim Brotherhood. They said the fighters had sneaked into the capital from northern Sinai but did not say whether they were members of ISIL.
An anonymous security source told Al-Ahram that three militants have been killed in the attack as well.